'Cashless Economy' and 'digital money' are the buzzwords today in India.
Up until the recent demonetisation, India was a  cash driven economy. Cash accounted for 95 percentage of all the transactions within the country. For example, 90% of the vendors did not have credit card readers or any means of electronic payment, 80% of the employees were paid in cash — the only country in the world where this option is available — and 'cash on delivery' was the preferred choice of 75% of all online shoppers.
By temporarily turning off the engines which drove the cash economy, Indian government hoped that more people within the country would switch to options such as debit cards, e- wallets etc.
But the currency experiment had its own disadvantages too. The removal of 86% of its currency without having the required supply of new notes to replace it with had left millions of people without any means to engage economically and several businesses were left without any means of readily available mechanism to buy or receive goods and to pay their staffs; considering the fact that India was heavily reliant on cash.
While middle class households exchanged their currency in banks, the unbanked poor had to rely on informal lenders who exchanged the old currency for new ones, at predatory rates. Without adequate savings and high rates of illiteracy, these people have low chance of joining Modi's dream of turning India into a cashless, digital economy.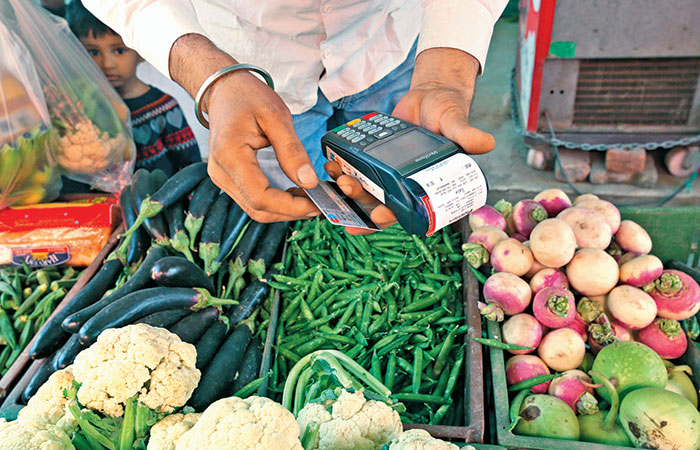 However, questioning the timing of India's big cashless push at this point is irrelevant. It's happening, ready or not.
India is on its way of modernizing the way things are paid for. E- payment services are increasingly growing and digitally – focused sectors like online hoping have started booming.  As of right now,  Paytm has reported 3 times increase in new customers- just 14 million new accounts in the last month. On the other hand, Oxigen Wallet's daily users increased by 167% since the demonetization occurred.
The lack of cash within the economy combined with the electronic payment systems has bought up some very innovative ideas. The farmers' market of Telangana has now began experimenting with their own electronic payment system where customers with Aadhar-linked bank accounts can now buy vegetables using tokens which is purchased via debit cards at specialized kiosks.
Economic digitization also enhances government's ability to improve its taxation systems. As of right now, billions of dollars are exchanged every year without tax collector taking his cuts. Only 1% of India's population pays income tax. Through digitalization, India will be able to create a more transparent economy which can form an improved climate for economic growth and foreign investment creating the next chapter of its emerging markets story.